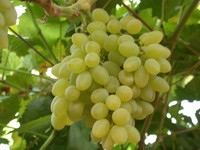 The wine grape is an important crop for agricultural livelihoods in northern Israel.
Most of the planted vineyards are in the Golan and the Galilee, covering ca. 2000 hectares.

Agricultural research for wine grapes concentrates on the main issues for which growers and others require answers:
1. Plant protection – dealing with grapevine leafroll disease, grapevine yellows disease and various other pests and diseases.
2. Management issues – replanting, cluster thinning, fertilizing, reducing pesticide use.
3. Introduction of new clones of existing varieties as commercial crops.

Research on wine grapes at Northern R&D employs 3 researchers who hold PhDs, supported by technicians and research students from different plant fields.
Most of the research is conducted at experimental farms in the north – Matityahu Farm in Merom HaGalil, Hula Valley Orchards Experimental Farm, Fichman Farm in the northern Golan and Avnei Eitan Farm in the southern Golan.
In addition – many research projects and experiments are conducted in the growers' plots and vineyards.
The researchers' work is conducted in close cooperation with the Agricultural Extension Service growing instructors, with researchers specializing in wine grapes throughout Israel, and of course with the farmer-vintner population.
There is also a close research connection with the table grape branch, including connections and cooperative work with vintners in other growing regions in Israel.
Each year, Northern R&D conducts a professional conference on wine grapes, in which research progress in the branch is presented.
| | | |
| --- | --- | --- |
| Manager | Telephone | Email |
| Shimon Zait | 972-52-5791717 | |