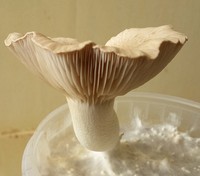 This field includes mushrooms and environmental biotechnology. 80% of the edible mushrooms produced in Israel are produced within the Northern R&D region. The development of this branch was achieved and is conducted by implementing and integrating technologies and developments generated by Northern R&D. Recently the first drip-irrigation system in the world for mushroom growing was developed in partnership with Netafim.

The main research topics for mushrooms and environmental biotechnology:
• Developing technologies for growing new exotic mushrooms on sterilized substrates.
• Use of edible mushrooms to facilitate forest conservation, with the aim of: 1) developing use of wood chips for producing exotic mushrooms; 2) developing a treatment for wood chips that will allow them to be used as feed for ruminants.
• Developing growth of truffles in the Upper Galilee and the Golan as an exclusive branch for export and for the local market
• Processing agricultural organic waste with the help of the Black Soldier Fly to obtain ready compost and protein-rich feed for animals.
• Assessing the effect of Vitamin D-enriched mushrooms on liver disease.
• Developing composting processes in a community composter for separated food waste in rural settlements in the Upper Galilee.
| | | |
| --- | --- | --- |
| Manager | Telephone | Email |
| Ofer Danai | 972-54-5484198 | |